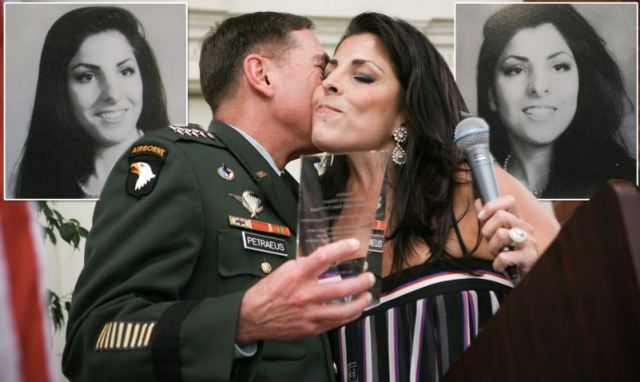 An interesting Federal Security Services (FSB) report circulating in the Kremlin today states that President Putin's firing of Deputy Defense Ministers Dmitry Chushkin and Yelena Kozlova yesterday were "directly related" to their actions in helping the United States uncover the full depth of the coup-plot launched against President Barack Obama by a large number of top US Military officers and their fascist backers.

The firing of these two Deputy Defense Ministers follows in the wake of last weeks ouster by Putin of Defense Minister Anatoly Serdyukov for his actions in allowing the release of information relating to this coup-plot to US authorities loyal to Obama from "secure" Russian sources having "highly placed" access to some of Americas top military and intelligence officials, and as we had reported on in our 6 November report "Obama Coup Plot Slams Into Russia".

The "secure" and "highly placed" sources referred to in the FSB report (otherwise known as "Honeypot Spies") are the Lebanese twin sisters Jill (Kelley) and Natalie Khawam [first photo right] whose father, John Khawam, brought with him to the United States when he emigrated from Lebanon in the 1970's.

Click on the image to enlarge it
FSB analysts in this report state that John "Abdul-Basir" Khawam was a "known asset" of the Soviet-era Committee for State Security (KGB) whose "Americanized" daughters Jill and Natalie (both closely linked to top US Military and intelligence officers) were, likewise, trained by master spy Anna Vasil'yevna Kushchyenko, otherwise known as Anna Chapman.

Kushchyenko was residing in New York when she was arrested by the Obama regime along with nine other Russian spies on 27 June 2010, on suspicion of working for the Foreign Intelligence Service (SVR). Kushchyenko pleaded guilty to a charge of conspiracy to act as an agent of a foreign government without notifying the US Attorney General, and was deported back to Russia on 8 July 2010, as part of a prisoner swap.

Jill and Natalie Khawam, this report continues, were reported by the SVR to have been "turned" by the Central Intelligence Agency (CIA) into counterspies and allowed to continue their assignments in the United States after Kushcyyenko's arrest, though SVR analysts, in an appended memorandum to this report, allege that both of these women continued to "follow their assignments."
The Obama regime, in not trusting the CIA to properly monitor these two Honeypot Spies, this report says, led the Federal Bureau of Investigation (FBI) to assign a specialized team to watch over them headed by one of their top counter-terror agents, Frederick W. Humphries II, who uncovered the Millenium Terror Plot, in 1999, that prevented an Algerian al Qaeda member from bombing Los Angeles International Airport.

Important to note in the Obama regime not trusting the CIA, and why Humphries (the FBI's top al Qaeda expert) was assigned to watch over these Honeypot Spies, was fully documented in the 2008 BBC's killer documentary "The Power of Nightmares" wherein top CIA officials openly admit, "al-Qaeda is a total and complete fabrication, never having existed at any time". [Note: To this date the US continues to ban this programme from being shown in America.]

To the number of top US Military officers ousted this past month by the Obama regime for their parts in this coup-plot, this report continues, it was expanded this past week when US Army General William "Kip" Ward was forced to resign and Lieutenant Colonel Paula Broadwell had her home searched by the FBI and her security clearances revoked.

This FSB report, however, states that Lieutenant Colonel Broadwell was, in fact, an FBI agent herself assigned to Humphries counter-terror team as a counter-agent whose mission was to "explode" the coup-plot against Obama from within. Propaganda US media reports, though, will only admit that Lieutenant Colonel Broadwell applied to the FBI 6 years ago, passed a polygraph test, and was offered an appointment.

As we have continued to report on this growing coup-plot (including our reports "Obama Topples Top Coup Leader After Washington Gunbattle", "Obama Fires Top Admiral As Coup Plot Fears Grows" and "Obama Overthrow Plot Widens As US Martial Law Fears Grow") the ouster by the Obama regime of many of its top military officers continues at an unprecedented pace.
Likewise, the ouster this past week of the three top defense officials in Russia by Putin caught up this US coup-plot continues to astound both Russian FSB and GRU analysts.

In order to head off even more chaos as this coup-plot continues to expand in both Russia and the United States, this report says, Putin "unexpectedly" called Obama Tuesday evening to invite him to the Kremlin, an invitation the American President readily accepted.

Important to note, also, this report says, is that Obama, in an effort to placate those US Military forces still loyal to him, yesterday signed a secret Executive Order that, in essence, gives his Department of Defense near total control over the entire Internet.
To the critical issue involved in this coup-plot, FSB analysts in this report say, are the massive profits made by the CIA through their global drug empire that are now put in danger by Obama, and now put into the forefront by the many US States that have voted, or are planning to vote, on decriminalizing marijuana.

Former US Congressman and Presidential candidate Ron Paul has been virtually alone among all American politicians warning of the CIA's global drug empire and its dangers to the Untied States giving evidence of how for nearly a decade the CIA helped spread crack cocaine in negro ghettos, and last December (2011) warned that drug trafficking is "a gold mine for people who want to raise money in the underground government in order to finance projects that they can't get legitimately. It is very clear that the CIA has been very much involved with drug dealings".

Unbeknownst to the American people about how dangerous this issue has become, is the fact that the United States government, since 1942, has held the exclusive global rights to marijuana through US Patent number: 2304669, and which they reinforced their ownership over in the months prior to the 11 September 2001 attacks with US Patent number: 6630507 which, in part, says:
"Cannabinoids have been found to have antioxidant properties, unrelated to NMDA receptor antagonism. This new found property makes cannabinoids useful in the treatment and prophylaxis of wide variety of oxidation associated diseases, such as ischemic, age-related, inflammatory and autoimmune diseases. The cannabinoids are found to have particular application as neuroprotectants, for example in limiting neurological damage following ischemic insults, such as stroke and trauma, or in the treatment of neurodegenerative diseases, such as Alzheimer's disease, Parkinson's disease and HIV dementia. Nonpsychoactive cannabinoids, such as cannabidoil, are particularly advantageous to use because they avoid toxicity that is encountered with psychoactive cannabinoids at high doses useful in the method of the present invention."
With marijuana laws set to be abolished in the United States, and soon to follow globally, during Obama's second term, this report concludes, the battle over which part of the US government is allowed to utilize these patents now held by the CIA will very likely determine the fate of that entire nation.

To the American people themselves, being deluded that this titanic struggle being waged is about sexual dealings by their propaganda "mainstream" media, the outcome couldn't be grimmer as they have, once again, become pawns in this game due to their continued, and obliging, ignorance.
Source