Report: Rex Tillerson tells UN Human Rights Council to reform or US is leaving
Foreign Policy reports:
The correspondence, obtained by

Foreign Policy

, explains the Trump administration's rationale for considering a departure from the 47-member organization. An immediate withdrawal from the Council, however, is not imminent, multiple State Department aides told

FP

. The Council has a small window of time to redeem itself in the eyes of Washington.
The Trump admin. is threatening to leave the UN Human Rights Council unless it undertakes "considerable reform"

http://

atfp.co/2lXuQxg
Also on Tuesday President Trump met with Saudi Arabia's Deputy Crown Prince Mohammed bin Salman, with his Arabic-speaking aide seated at the head of the table: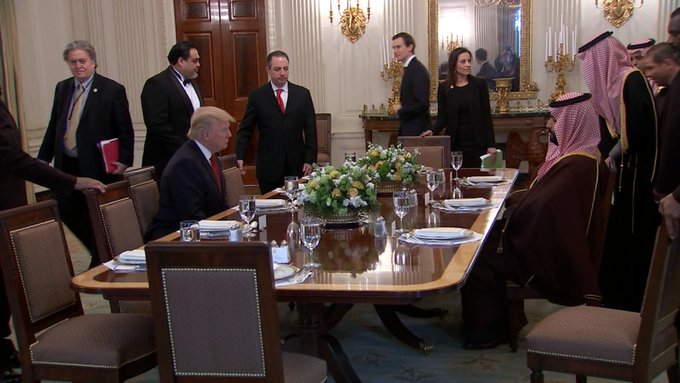 Kevin Liptak
✔
@Kevinliptakcnn
Dina Powell, the Arabic-speaking top Trump aide, is seated at the head of the table in his lunch with the Saudi Deputy Crown Prince
http://twitchy.com/wa-37/2017/03/14/report-rex-tillerson-tells-un-human-rights-council-to-reform-or-us-is-leaving/?utm_source=twtydaily&utm_medium=email&utm_campaign=nl
Follow