UPDATE 10:53 PM CST
2000+ lightning strikes along squall line! Currently, storms "behaving". Expect gusty winds & lots of lightning
**************************
UPDATE 4:35 PM CST
!! PRAY AND SPEAK IN TO EXISTENCE A "STRONG CAP" FROM NOW THROUGH TUESDAY NIGHT IN TO WEDNESDAY MORNING - WILL HELP TO STOP TORNADOES !!!!!!
***************
UPDATE 3:25 PM CST
"PDS" Tornado Watch til 12 AM. "PDS" is Particularly Dangerous Situation. Higher confidence in long-track tornadoes. It includes all of North TX!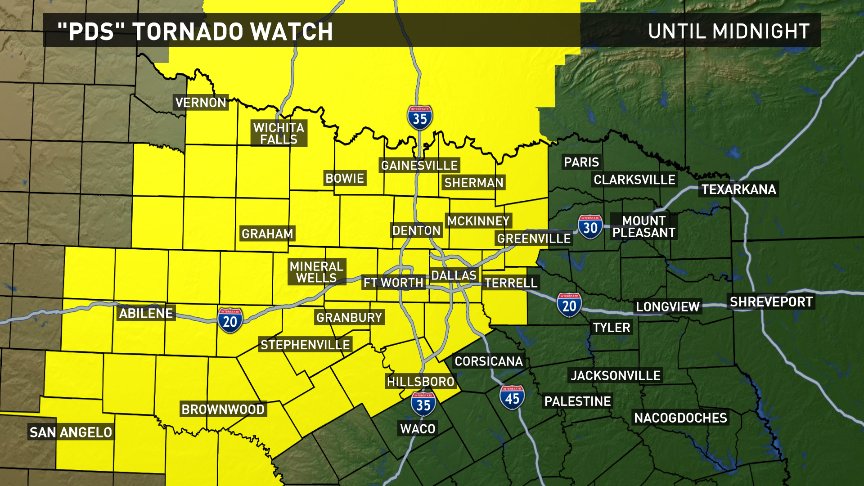 https://twitter.com/wfaaweather
******
UPDATE 1:30 PM CST
Severe weather threat for North Texas has been "upgraded" to moderate. That's 4 on the 1 to 5 scale.
PLEASE PRAY FOR

TEXAS - FT WORTH / DALLAS

IN

SEVERE DANGER

AFTER 3 MONTHS OF PRIOR SEVERE WEATHER, DEATHS AND DAMAGE
Almost a 1000 mile stretch of severe wx risk Tuesday from Omaha to Del Rio! 1st moderate risk of season for Plains.
Two Rounds Tuesday: 6PM-9PM...Isolated supercells/tornado threat. 9PM-12AM...Squall line/straight-line wind threat.
Severe storms possible Tuesday night

...more storm chances by end of week.
We continue to analyze newest data coming in tonight. Suggests more storms 6PM-9PM in DFW. Squall line timing same.
Tuesday isn't our last day this week for severe storms. We'll have another round before we begin the weekend.
FT WORTH / DALLAS ARE IN THE ORANGE ZONE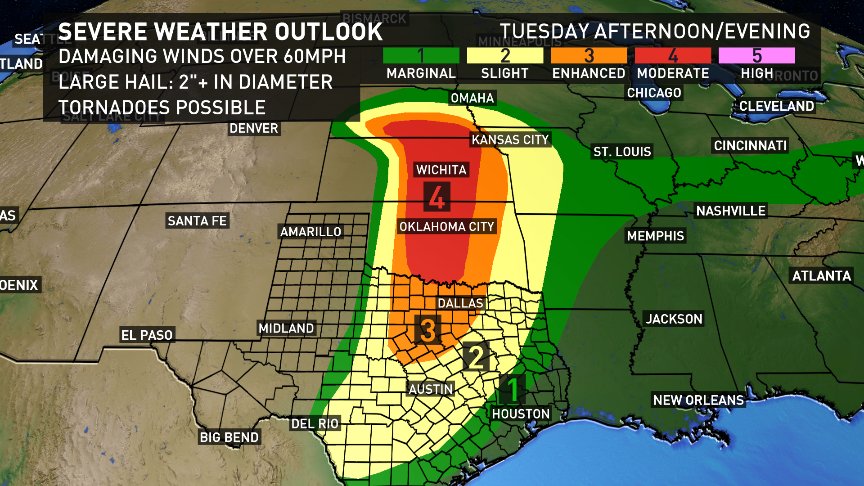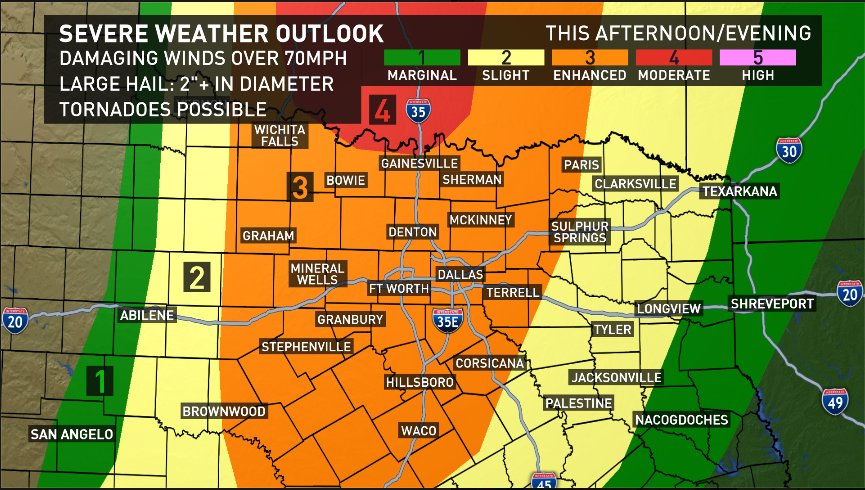 FOR THE PAST THREE MONTHS TEXAS HAS BEEN HIT TIME AND TIME AGAIN WITH SERIOUS STORMS WHICH SEEM TO BE TARGETED PRIMARILY FOR THE FT WORTH / DALLAS AREA METROPLEX AND THEN MOVING THROUGH EAST TEXAS IN TO ARKANSAS AND LOUISIANA AND EVEN NORTH ACROSS THE RED RIVER IN TO OKLAHOMA.
THE PATTERN SEEMS TO BE EVERY TWO WEEKS A MAJOR DESTRUCTIVE FRONT MOVES IN TO AND THROUGH THIS AREA, AND MOST TIMES WITH A SECOND FRONT FOLLOWING RIGHT BEHIND IT.
THESE STORMS HAVE PRODUCED FEROCIOUS HAARP INDUCED TORNADOES, TORRENTIAL RAIN CAUSING MASSIVE FLOODING, CONTINUOUS LIGHTNING LIKE WE'VE NEVER EXPERIENCED BEFORE, STRONG STRAIGHT LINE WINDS AND UP TO BASEBALL SIZE HAIL.
THE DESTRUCTION HAS BEEN HORRENDOUS. PEOPLE HAVE LOST THEIR HOMES, JOBS, CARS, SCHOOLS AND BUSINESSES, AND SOME EVEN THEIR LIVES.