Thursday, February 22, 2018
Wednesday, February 21, 2018
The TRUTH About Crisis Actors
in the Florida 'Shooting'
Published on Feb 21, 2018
Alex Jones and Milo expose the truth behind the claim that children have been coached, such as crisis actors, after the Florida shooting to manipulate media reports and push anti-gun, anti-Trump politics.
Posted by

Olive Oyl
at 9:17:00 PM
0 comments


Tuesday, February 20, 2018
Anytime a shooting happens, it's a tragic event whether it was a false flag or a legitimate mass shooting by a lunatic; but just because people died doesn't mean we shouldn't question the veracity of the events reported. Here are 5 reasons why you should question the recent shooting and remain vigilant.
1. There was a drill planned the day of the shooting.
Coincidentally, earlier on the day of the shooting, teachers at the Marjory Stoneman Douglas High School were told there would soon be a 'code red' or 'lockdown' drill, to practice their response to an immediate threat,
Miami Herald
reported
.
2. The shooter claims he heard "demonic voices."
The shooter Nikolas Cruz is claiming to have heard "demonic voices," like previous mass shooting suspects – Sirhan Sirhan, Unabomber Ted Kaczynski, David Chapman, Jared Loughner, Aaron Alexis or any of the other shooters who heard strange voices before carrying out their acts of horror,
according
to
Daily Mail
. (See this writer's article:
"I HEAR VOICES: MKUltra? A Worrying Trend Of Mass Shooting Suspects Throughout History Before Committing Horrific Murders."
)
3. The shooter arrived in an Uber and left the scene blending into the crowd then peacefully surrendered.
Cruz, who is alleged to suffer from autism, depression and other significant psychological problems according to his legal team, arrived at Marjory Stoneman Douglas High School in an Uber ride. He then opened fire at the school, shooting into rooms 1215, 1216, 1214 … he then went back into 1216, 1215 and then to 1213 according to his arrest affidavit.
"The suspect then took the west stairwell to the second floor and shot one victim in room 1234 on the second floor. The suspect then took the east stairwell to the third floor … he then dropped his rifle and backpack containing extra ammunition and ran down the stairs … exiting building 12 and ran toward the tennis courts," the affidavit continued.
"The suspect then arrived at a Walmart store and bought a drink at the Subway and left the Walmart on foot."
According to the police timeline, he arrived at Walmart at 2:50 p.m.
"The suspect then arrived at a McDonald's and sat down for a short period of time around 3:01 p.m. and he left on foot."
"At 3:41 p.m., 40 minutes after leaving McDonald's, the suspect was detained at 4700 Wyndham Lakes Drive in Coral Springs, by an officer with the Coconut Creek Police Department," Sheriff Israel concluded.
Cruz was expelled from the school last year after students said he got into a fight with his ex-girlfriend's new boyfriend and was caught with bullets in his backpack.
4. Witnesses claim multiple gunmen, while the media and police report a lone wolf narrative.
Three witnesses claim that there were multiple shooters, while one account is less detailed and based on meeting the shooter in the hallway and hearing gunshots ringing out. Another account of the shooting details multiple shooters where the woman states, "there were three shooters that's what I heard … I saw some other kid and he was wearing some type of thing."
5. The shooting is being used to take away our freedoms.
The fifth – and possibly the most important reason – the shooter allegedly posted on some random YouTube channel that he was about to carry out the disgusting mass murder, which the YouTube channel owner Ben Bennight then
reported
to the FBI and YouTube.
"I'm going to be a professional school shooter," A YouTube user named Nikolas Cruz commented on a video on Sept. 24, 2017.
As a result of this, the county sheriff Scott Israel in charge of investigating the mass school shooting in Parkland, Florida, pleaded with lawmakers on Thursday to give police and doctors more power to involuntarily hospitalize people for psychiatric evaluation over posts on social media that are deemed "violent and threatening."
"if they see something on social media, if they see graphic pictures of rifles and blood and gore and guns and bombs, if they see something, horrific language, if they see a person talking about 'I want to grow up to be a serial killer," Israel said.
Then there are the consistent calls to ban guns and dismantle the Second Amendment's right to bear arms … like banning firearms, a
tool
used to aggress or defend is going to do anything. One could argue that if someone in that school had a firearm the damage done could have been minimized.
Meanwhile, besides the shooting being used to attempt to take away Internet freedoms and to dismantle the 2nd Amendment, everyone is ignoring and distracted from the fact that
France
and many other nations including the U.S. are preparing for war in Syria over another
chemical weapons attack
.
Additionally, the U.S. has
destroyed
a Russian tank in "self-defense" as well as
blaming Russia
for the chemical weapons inching us closer to WW3 with Moscow.
Fun fact: the last time the U.S. was ready to go to war in Syria over chemical weapons, the
military stood up
and said it wouldn't fight alongside Al-Qaeda with a hashtag campaign
#IdidntJoin
… then a shooter shot up the Navy yard. In that shooting, the suspect carved into his gun
"MY ELF WEAPON"
and filed a police report (below) where he said: "the government was controlling my mind."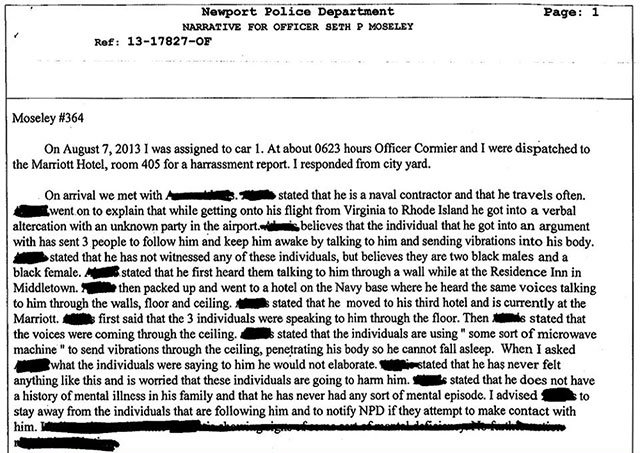 So think of that what you will in light of this recent shooter also saying he heard voices that he described as "demons." Then calming down and peacefully surrendering like nothing had happened…
With all this information, one should question whether Nikolas Cruz was a Manchurian candidate, a victim of mind control who was set up to be the fall guy in this situation, or at the very least just a shooter being used to eradicate our rights and distract us from an erupting dangerous situation in Syria. Taking advantage of a tragedy? No matter what way you look at this, we lose; as
Rahm Emanuel
once famously
said
"never let a good tragedy go to waste."
An important note: if this was a false flag attack that doesn't mean that people didn't die, as history has proven from many suggestions of false flags such as
Operation Northwoods against Cuba
, or the
false flag to go to war with Russia
during the Cold War. In both, deep state groups within the government suggested murdering innocent Americans for political purposes.
***
Aaron Kesel writes for Activist Post. Support us at Patreon. Follow us on Facebook, Twitter, Steemit, and BitChute. Ready for solutions? Subscribe to our premium newsletter Counter Markets.
Image Credit: Indian Express/Associated Press
Posted by

Freewill
at 9:41:00 PM
2 comments


https://youtu.be/BNUe8zz9fQM
David Hogg, one of the darlings of Fake News CNN has just been busted! The guy is a very bad actor! Watch in part of the video while he practices his anti-gun lines again and again! All the while the Fake News producer is saying it's okay David - it's okay! Make sure you get those lines right so we can take their guns! I doubt this guy even goes to the school! He's most likely a Soros paid anti gun activist. The ones screaming the loudest are always paid trolls!
In a blockbuster find by Internet activists David Bogg was just exposed in a California news broadcast over a ridiculous fight between a lifeguard and his friend. David Hogg is hogging the camera again making a big deal out of nothing! Was this where David Hogg was trained? Is this his acting debut? Oh and by the way, his Dad is FBI he claims! This guy is as fishy as Obama's college records and birth certificate! He needs to be fully investigated along with his Dad to see if they are indeed part of this illegal effort to destroy our right to bear arms! Get this out everywhere and keep telling EVERYBODY your news is FAKE! Love Trump or Hate him, Trump is the only one who told the truth about the criminal mainstream media! God bless Trump and God bless the United States of America! Keep up the great work out there spreading the truth!
"In less than a week since they survived a mass murdering gunman attack on their school, two student who quickly became media stars of the Parkland, Florida school shootings are now media obsessed to the point they say they are snubbing an invitation to meet with President Donald Trump this Wednesday in favor of appearing on a televised town hall with CNN's Jake Tapper. […]
One student, in particular, David Hogg has been astonishingly articulate and highly skilled at propagating a new anti-Conservative/anti-Trump narrative behind the recent school shooting. Few have seen this type of rapid media play before, and when they have it has come from well-trained political operatives and MSM commentators."
https://thenewright.news/2018/02/exposed-school-shooting-survivor-t...
Posted by

Freewill
at 9:31:00 PM
7 comments


Posted by

Freewill
at 9:27:00 PM
1 comments


Posted by

Olive Oyl
at 3:41:00 PM
2 comments


Posted by

Freewill
at 12:27:00 PM
1 comments


Posted by

Freewill
at 12:17:00 PM
3 comments


(Stillness in the Storm Editor) While so many people were going crazy over Trump's hint about war with Korea during last week's United Nations address, I found different clip as interesting as Anna von Reitz did. If you value truth, justice, and the rule of law, likely you will too.
Trump clearly states the people of "America" (to use Reitz's terminology) are sovereign.
This is accurate given how the constitution was written—a testamentary estate created by the founders—which says there are no titles of nobility in America, and as such, all people are sovereign.
But here's the rub.
Just because we have innate sovereignty, doesn't mean we're sovereign in law—that we have achieved sovereign status.
A sovereign manages their house and affairs precisely, with honor and grace. As sovereigns, we need to work hard to understand the law, know how to conduct our affairs without harming others, to the best of our ability, and most importantly, deal with the defunct criminal system in honor.
In other words, the dream of the founders, as advertised by history, suggests a society based on self-governance, which has yet to be realized.
That doesn't mean Trump's words are meaningless, nor does it mean the idea is worthless. What it means is that we have to live up to our end of the bargain, working hard to gain competence through study and honest truth-seeking. If we did this as individuals, the powers that should not be would quickly lose power.
I'm curious if Trump really knows what he's talking about, or if he's just paying lip-service to constitutionalists.
Given that the Southern Poverty Law center declared sovereign citizens domestic terrorists, I find it puzzling why Trump would make light of the innate sovereignty of Americans. If he really is just another Cabal puppet, why bother mentioning this? Conversely, if he really is working for the good, what might he be suggesting?
I, for one, can't know for certain what Trump's intentions are, or whether he is good or bad. But I find things like this worthy of consideration—something to place on our mental bookshelf for later.
Source - Scanned Retina
by Anna von Reitz, September 22nd, 2017
In this one small clip, the undisputed leader of the free world, a man chosen by a mandate of the people, themselves, gave public notice to the world that the true nature and his official recognition of the legitimate and true standing of every American, man, woman and child…
We as the people, have been officially recognized and our "legal," and "lawful," standing recognized and authenticated by the only true recognized civil/incorporated, administrative authority in America. Mr. Trump, by the mandate of the American people, was delegated lawful and legal authority to act and speak for the people. Mr Trump also acknowledges this recognition is consistent with the will and direction of the Creator of all men and women.
http://www.stillnessinthestorm.com/2017/09/highest-administrative-authority-in-america-recognizes-we-the-people-are-sovereign-anna-von-reitz.html#more
Posted by

Freewill
at 12:02:00 PM
3 comments


Listen to this video
It provides information and ties together
the Deep State strategy of dumbing down the public
on what is REALLY going on with the Parkland shooting
Information given that is not in the mainstream media
Published on Feb 17, 2018
Posted by

Olive Oyl
at 11:57:00 AM
0 comments


DO YOU 'GET' THE PICTURE HERE? ARE YOU READY TO PRESERVE YOUR 2ND AMENDMENT RIGHTS?
YET ANOTHER FBI STAGED AND SETUP FALSE FLAG?
AND fill out the form and write in a

message to the President

to

please do NOT succumb to the tactics of the Deep State and the demo-RATS to continue their efforts to remove our 2nd Amendment rights from the American people

- but TO MAKE IT KNOWN TO THE DEMO-RATS AND TO THE DEEP STATE THAT THEIR EFFORTS TO FRIGHTEN AMERICANS IN TO GIVING UP THEIR 2ND AMENDMENT RIGHTS WILL NOT WORK, AND THAT THE TRUMP ADMINISTRATION AND THE AMERICAN PEOPLE WILL CONTINUE TO STAND FOR THE 2ND AMENDMENT RIGHTS FOR THE AMERICAN PEOPLE AND THE PRESERVATION OF THIS NATION ....
All these false flag gun events are being purposely orchestrated (MK Ultra) to take away our right to self defense.
If they Deep State and the demo-RATS are allowed to achieve their goals,
then we will have a
hitlery
regime unlike anything the world has yet seen or experienced. Most of us will be dead where we stand or in the death camps.
PEOPLE,

THIS WHOLE THING IS A SETUP - A FALSE FLAG - AND THIS KID CRUZ IS BEING SACRIFICED BY THE SATANIC DEEP STATE TO ACHIEVE THEIR GOAL OF ELIMINATING THE 2ND AMENDMENT.

COMPARE REPORTS FROM THE SANDY HOOK INVESTIGATION AFTER THAT SETUP WAS CARRIED OUT - COMPARE TO THIS ONE IN FLORIDA. THE EXACT SAME SCENARIO!!
4 days ago ... ALEX JONES (HOST):
"Wow, we said the perfect false flag would be a white nationalist attacking a multicultural school as a way to make the leftists all look like victims and bring in gun control and a war on America's recovery and now right on time what we've been warning of, ... "
- NO BLOOD WAS EVER SEEN ON THE BODIES OF ALLEDGED SHOOTING VICTIMS
- NO BLOOD WAS SEEN IN THE AREAS WHERE THE ALEDGED SHOOTING TOOK PLACE
THE 'SHOOTER'(S) ARE MKULTRA PROGRAMMED AND CANNOT DEFEND THEMSELVES, SO ONCE AGAIN, JUST LIKE WITH THE COLORADO SCHOOL SHOOTER, A FEMALE 'ATTORNEY' SHOWS UP OUT OF ???? TO 'REPRESENT' THE KID IN COURT AND STATES THAT HE 'CONFESSED.'
THE SCHOOL WHERE THIS WAS TO HAVE OCCURRED WASN'T EVEN OPEN OR IN USE - JUST LIKE THE SANDY HOOK SITUATION AND
- SUPPOSEDLY CRUZE HAD POSTED ALL OVER SOCIAL MEDIA WHAT HE WAS GOING TO DO!!!!! IS IT NOT POSSIBLE THAT COULD ALSO HAVE BEEN DONE ON HIS BEHALF TO ADD TO THE 'EVIDENCE' THAT HE, INDEED, WAS GOING TO SHOOT STUDENTS? OF COURSE!
THESE DEEP STATE SATANIC AHOS HAVE LEARNED FROM THEIR PAST FALSE FLAGS WHAT THEY NEEDED TO DO TO MAKE THIS 'REAL' AND BELIEVABLE. ALREADY THEY ARE PUSHING TO CONFISCATE OUR GUNS!
NANCY PELOUSI ALREADY ON HER SOAPBOX
TO FORCE GUN CONFISCATION AS HER 'LEGACY'
Sen. Feinstein Introduces Bill To Ban All Semi-Autos
PLEASE! DON'T LET THE DEEP STATE/DEMO-RATS GET AWAY WITH THEIR SETTING UP THIS YOUNG MAN TO TAKE THE FALL FOR THEIR ACT TO REMOVE OUR 2ND AMENDMENT RIGHT TO BEAR ARMS - IF WE DO LET THEM GET AWAY WITH THIS - THEN THE PEOPLE OF THIS NATION WILL BE THE NEXT TO BE TAKEN DOWN - IN REALITY
Breaking: Florida Shooter Nikolas Cruz
heard Voices in Head - MKULTRA
Sheriff

says they received 20 calls (some sources say up to 39) about Cruz before shooting, but I guess he was too busy with Hillary.
The FBI knew about Cruz
but were too busy with fake Russia narrative. #DraintheSwamp
#Qanon
HOW DID THE FBI 'KNOW ABOUT CRUZ'? BY MULTIPLE DEEP STATE REPORTS TO ALERT THEM TO
BE READY FOR THE ENACTMENT OF THIS FALSE FLAG? SEE THE PICTURE BELOW OF THE SHERIFF AND HILLARY CLINTON FOR PROOF OF A 'WORKING RELATIONSHIP' BETWEEN THE TWO IN THE AREA OF THE 'SHOOTING.'
​People, check out this pic and narrative - do you really believe the

Sheriff

didn't know and wasn't a part of this planned false flag in his support of hitlery and the deep state?
The communist marxist deep state could not take down the will of the American people in the last presidential election by their fraudulent 'voting' .... so they are trying now to take control of the nation via fraudulent false flag shootings - using the nation's children to convince the snowflakes that they need to confiscate guns to protect their adorable children.
Students At Florida School Shooting
Report Crisis Drills and Multiple Shooters
​If that report is true, then why isn't that being investigated? Who were the multiple shooters? Where were they? Why no blood? ​Any County Coroner reports filed on the deceased?
Evidence Mounts Florida Attacks Is A Giant False Flag
Nikolas Cruz Appears In Court Zombie Like
Florida school shooting suspect's disturbing social media posts
​​
PLEASE DON'T ALLOW THE DEEP STATE TO SACRIFICE THIS YOUNG MAN TO ACHIEVE THEIR GOALS OF DESTROYING OUR 2ND AMENDMENT RIGHTS.
STAND UP AND BE COUNTED! OUR NATION IS AT STAKE HERE.
AND DEMAND AN INVESTIGATION BE OPENED IMMEDIATELY !!
Posted by

Olive Oyl
at 12:38:00 AM
22 comments