Thursday, May 31, 2018
BUSTED! OBAMA CAUGHT IN CHILD PORN SCANDAL
by Frank Holmes, reporter
Donald Edward Davis Jr. was a convicted sexual predator – but that didn't cost him his job in former President Barack Obama's administration.
Police arrested Davis for downloading child porn on his home computer in Virginia not long before the 2012 election. He admitted he was guilty of two felonies that October –
but kept right on working
at his high-paying federal job for nearly a year.
Davis was able to hide his status as a child predator, because the Obama administration didn't require federal employees to report if they've been convicted and placed on the sexual offender registry. The state of Virginia also doesn't have to tip-off employers about any of the 500 offenders who work in other states – or Washington, D.C.
Eventually, the General Services Administration found out and booted him out of his maintenance job, but the shocking fact is that the Obama administration may have let dozens or hundreds of sexual predators infiltrate the federal government… and they may have access to the most sensitive, top-secret information about your family.
A Freedom of Information Act (FOIA) request from the NBC News 4 investigative team this month revealed the startling extent of child porn in the federal government. The FOIA search included only a dozen of the
430 separate agencies
that make up the federal government. It went back only to 2015. And it only asked for major or criminal porn cases on the federal jobsite but they found
50 cases
– most under Obama — from those agencies alone.
Recent, high-profile cases include:
An
employee
with the Department of Education – the department that is supposed to keep students safe and shape young minds – infected a government computer with malware while downloading child porn on the job. The pervert searched for things like "naked toddlers," "very young little girls," "too young boy" and even beastiality. Inspectors found "graphic images of nude children" on the computer and a virus that could have given hackers access to hundreds of federal databases full of children's names and personal information.
A bureaucrat downloaded
17 images
of suspected child porn onto his Federal Aviation Administration-issued computer – but the case never went to court. The man was busted just as President Donald Trump took office, and inspectors said the Justice Department had previously made it policy not to prosecute anyone who downloaded pornographic images of kids younger than 14, according to
The Washington Times
.
Another FAA employee in New Hampshire was convicted of possessing child porn five months ago. A third FAA employee's trial is pending.
An Amtrak employee used a government computer to search for such items as "hot girls in knee highs" and "redhead stocking garter" – and downloaded more than 100 sexually-explicit images before inspectors caught on.
Someone who worked for NASA's Goddard Space Flight Center was arrested for buying child porn just before the 2016 election – but died before the case could go to court.
One government worker filled 9 USB drives with porn he downloaded while "on the job" for the Dept. of Agriculture. The employee, who worked in New York, installed his own heavy-duty privacy and internet history-shredding software on his work computer.
Someone who worked for the Commerce Department searched the internet from a work computer for the terms "Lolita," "school girl inappropriate," and "preteens dancing."

The fact that these people are watching the vilest porn imaginable while being paid by U.S. taxpayers is disgusting enough – but there may be something more hideous lurking beneath the surface.
The FBI found that 76 percent of all people involved with online child porn admitted they had also exploited a child in real life – and never gotten caught.
That means there are likely dozens, or hundreds, of child molesters working for the federal government – not to mention the state or local government.
Imagine: Child rapists may work for the NSA, FBI, Secret Service, or Child Protective Services. They could have access to vast databases of information on U.S. citizens – and their children.
We already know federal bureaucrats abuse their government jobs to satisfy their sick, predatory fantasies. And thanks to the unfolding recent government scandals, we know they exploit their power to indulge their private agendas.
Who's to say one of them won't go the next step, from watching videos of child rape to performing it? Who's to say one of them hasn't already?
Frank Holmes is a reporter for
The Horn News
. He is a veteran journalist and an outspoken conservative that talks about the news that was in his weekly article, "On The Holmes Front."
https://thehornnews.com/busted-obama-caught-in-child-porn-scandal/
Posted by

Olive Oyl
at 11:24:00 PM
2 comments


Wednesday, May 30, 2018

GREAT JOB !!!
Trey Gowdy Just Did It
Posted by

Olive Oyl
at 9:53:00 PM
3 comments


JUST IN - THIS IS IT
Feds Release "Game Changing" Findings
on Hillary Clinton
May 30, 2018
Posted by

Olive Oyl
at 9:50:00 PM
0 comments


HILLARY THREATENS FBI AGENTS
SET TO TESTIFY AGAINST HER

May 30, 2018
Posted by

Olive Oyl
at 8:18:00 PM
6 comments


Everyone I'm close to the mark for getting Freewill out!! I've got bail covered for his current matter/case, 375 short on covering bonds for past matters they want to hold him for.. If you haven't pitched in yet, would you please help him out? That 375 is after I put up 700 in backpay I just got from work, leaving me with nothing until I next get paid for work.. Thank you to those who have helped so far!! it's appreciated. And thank you to those who choose to help with the last bit

Greatfully,

FreeDom
Posted by

Freewill
at 8:08:00 PM
1 comments


Trail Life USA, The 'Other' Boy Scouts Of America
Trail Life USA, The 'Other' Boy Scouts Of America....
A new faith-based group for boys is taking shape, just three months after the Boy Scouts of America
decided to change its membership policy
to allow gay youth to join.
The group, dubbed Trail Life U
SA, calls itself a Christian alternative to the Boy Scouts. Its name was recently revealed at a hotel conference before a crowd of about 1,200 parents and scoutmasters, complete with
a slick video with a dynamic score
.
Its motto is "walk worthy," and the group says it will focus on adventure, character and leadership.
"Our vision and what we are about is to be the premier national character development organization for young men, which produces godly and responsible husbands, fathers and citizens," said John Stemberger, who led the opposition to the Boy Scouts' policy to allow gay youth.
Stemberger, who is an Eagle Scout, said it was a gut-wrenching decision to leave the Boy Scouts. But he said it's time to move on.
"Real men value truth over tradition," he told the assembled crowd. "Real men value principle over program, and they value integrity over institutions."
Many sessions at the inaugural convention were closed to the media, with a few live-streamed across the country. Leaders are partnering with American Heritage Girls, a group that formed more than 15 years ago as a faith-based alternative to the Girl Scouts.
Adults in Trail Life USA must sign a statement of faith and make a commitment to purity. That means scouts will be taught that any sexual activity outside marriage is a sin. Leaders say scouts who are gay will be allowed in, as long as they don't promote or engage in any sexual behavior that is a distraction to the program.
Related NPR Stories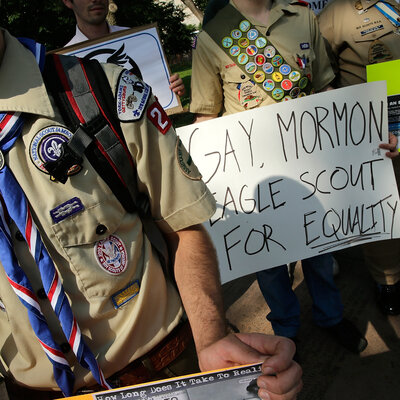 AND NOW GIRLS..... THE BOY SCOUTS WE HEAR MUST CARRY CONDOMS...
IN MY DAY THEY WOULD HAVE TARRED A FEATHERED THE AHO'S THAT THOUGHT THIS B.S. UP!!!
They will not allow youth who are open about their homosexuality. Officials did not comment further about the policy.
Some at the conference said they intend to join. Others, like Andy Mallang, an elementary school teacher from Indiana, are investigating their options.
Mallang said he made a personal decision to pull his 9-year-old son out of the Boy Scouts because he said its new policy violates his religious beliefs. He said it was a difficult choice.
"Whether I'm Christian or I have Muslim friends or Jewish friends or Hindu friends, there's still a time where I need to get along and work together," Mallang said. "I struggle with [thinking], 'Am I doing the right thing?' I am hoping that this organization for boys will be the answer."
Responding to the Boy Scouts' new policy, some churches have announced they won't continue to sponsor troops. Others support the change. And some say the century-old organization didn't go far enough, and that troops should also allow adult leaders who are gay.
A spokesman for the Boy Scouts says that while a charter group has decided not to continue, other organizations have stepped up to provide a home. The group says 99 percent of its more than 100,000 scouting units remain committed.
But Trail Life USA says it expects to charter 1,000 troops as incubators by January, when its program officially begins.
Posted by

Popeye
at 6:36:00 PM
1 comments


Imminent Danger
Thousands Evacuated After Dam
Begins to Fail In North Carolina
May 30, 2018
ALERT!
North Carolina DAM Failure Imminent
due to Mudslide Damage!
May 30, 2018
Landslide Near McDowell County North Carolina's
Lake Tahoma Dam Sparks Evacuations
May 30, 2018
Posted by

Olive Oyl
at 4:31:00 PM
1 comments


FEARS OF TSUNAMI FOR U.S. WEST COAST AS ERUPTING HAWAII VOLCANO FRACTURES MASSIVE UNSTABLE LAND MASS
Category: U.S. National News
Sunday, 06 May 2018 01:35
Scientists from the United States Geological Survey (USGS) have contacted me regarding a staggering development taking place right now during the eruption of the Kilauea volcano in Hawaii: An area of land on the south flank of the volcano known as the "Hilina Slump" - about the size of Manhattan -

is moving and could BREAK OFF into the ocean, sending a Tsunami toward the west coast with 100+ foot waves moving at 500 miles per hour

. Cities like San Diego, Los Angeles and others could be wiped off the face of the earth.
They say the bosses at USGS know about this and are intentionally concealing it from the public for fear of causing a panic. Media outlets in Hawaii and in Los Angeles have allegedly been specifically told not to say anything . . . yet . . . for the same reason.
I am breaking this story.
As most of the civilized world knows by now, the Kilauea volcano on the south side of Hawaii's big island, began erupting earlier this week.
Prior to the appearance of lava at the surface, hundreds of small earthquakes were felt. Then the quakes got bigger. A magnitude 5.6 struck Thursday evening and a strong Magnitude 6.9 was a sort of announcement by the volcano that it was time to blast off. This map from the USGS web site, shows the location of the Magnitude 6.9 quake and the rings indicate how far away the quake was felt:
Within minutes of that M6.9 quake, 2,000 degree lava began shooting out of the ground -- over 100 feet into the air -- through cracks in roads up to 12 miles away from the volcano crater! The lava quickly set homes ablaze.
The lava is destroying everything in its path. Roads became impassable.
The lava is not stopping. Other roads are now cracking open with super-heated steam and toxic gases spewing out.
Evacuations were ordered, with more than ten thousand people told to flee for their lives.
But this is far from the worst of it. While all this shaking and spewing is taking place, the land atop all this lava activity is literally moving toward the ocean. Specifically, an area of land about the size of Manhattan in New York City, called the "Hilina Slump" is not only moving, deep cracks are appearing which SOME geologists fear are indications the Hilina Slump is going to BREAK OFF of the island, and fall into the ocean in one giant splash.
The Hilina Slump is an area of about 5,000 cubic miles of dirt and rock. If it breaks off and slides into the ocean (as has happened 60 times in the past elsewhere in the Hawaiian islands) a Pacific-wide-Tsunami would be generated, hitting the U.S. west coast with waves over 100 feet tall moving at 500 miles per hour.
San Diego, Los Angeles and other major cities would be wiped off the face of the earth.
This is a geological map of the Kilauea Volcano showing the Hilina Slump:
IT HAS HAPPENED BEFORE
The Hawaiian Islands are home to the largest documented shoreline collapse in history, an ancient seaward landslide that sent rocks from the island of Oahu to sites more than 100 miles offshore. The avalanche of debris from the northeast shore of Oahu probably occurred between 1.5 and 3 million years ago, and it undoubtedly created one of the largest tsunamis in Earth's history, a wave large enough to inundate every coastline of the northern Pacific Ocean.
Today, geologists are saying that seismic and tectonic forces are creating the potential for a similar disaster on the southeast shore of the big island of Hawaii, near Kilauea volcano. The world's most active volcano, Kilauea is continually growing larger. At the same time, its seaward flank is moving toward the Pacific, currently at the rate of about 10 centimeters per year. Kilauea's movement takes several forms. Layers of lava and sediment atop the mountain are pulled down by the force of gravity. The entire mountain itself also moves slowly out to sea as magma derived from deep within the earth's mantle intrudes into the core of the volcano.
"From previous studies, we know that Kilauea is the site of an active landslide, the Hilina slump, which has moved in historic times," said Julia Morgan, assistant professor of Earth Science at Rice University in 2003. "We now recognize that Kilauea also experienced a catastrophic landslide in the past, possibly within 25,000-50,000 years, which is quite recent in geologic terms."
The 10-by-15 mile Hilina slump is now partially detached from the seaward flank of Kilauea, and a candidate for catastrophic collapse.
The Volcano is moving!
While there is no real consensus on why Hawaiian volcanoes move, the fact is that they do move. One of two things can happen when you apply enough force to move a volcano; neither is particularly good.
First, the volcano can move or slide fairly easily along its base. Generally the movement is relatively continuous, however a bit of sticking here and there can generate some rather large earthquakes. That's what we've had this week with Kilauea. Sticking, then earthquakes.
The structure that results from this type of movement is called a "slump." Generally, a large block of the volcano slides coherently and stretches the volcano. Because the block is lengthening, it must also get thinner. The result of this is a set of cuspate normal faults near the head of the slump. The blocks on the seaward side of the fault drop downward due to the fact that the moving block is thinner.
The Hilina slide on the southern side of Kilauea is an excellent example of a slump. The large "palis" or cliffs on the south side of Kilauea are the tops of the extensive fault system at the head of the Hilina slide. The faults downdrop blocks towards the coast over 2000 feet in places. The downdropped coastal side of the fault blocks are probably tilted back towards the rift zone, but have been filled in by numerous lava flows making them slope very gently (about 1 degree) towards the ocean.
During the 1990's, Kilauea was moving an average of about 10 cm a year seaward. This is a lot of movement for such a large object. This is a lot of ground to break and as you can imagine it results in some pretty large earthquakes. The last time that this appears to have happened was in 1868 and the result was the M8 Kau Earthquake.
Second, the volcano can get stuck and suddenly release, causing a massive earthquake and landslide. The Hilina Slump is said to be "the most rapidly moving tract of ground on Earth for its size." The Hilina Slump can move much faster. At 4:48 AM, November 29, 1975, a 37-mile-wide section suddenly dropped 11½ feet and slid seaward 26 feet. The result was a magnitude-7.2 quake and a 48-foot-high tsunami around Hawaii. This was a minor movement of the slump. If the entire 4,760-cubic-mile block broke off, (as some geologists who spoke with me today believe may take place) it would probably create a magnitude-9 quake and a tsunami 1,000-feet high.
All the coast-hugging cities of the Hawaiian Islands would be swept away. And LOOK OUT Australia, Japan, and California.
(SOURCE: Napier, A. Kam; "Landslide," Honolulu, p. 28, February 1997. Cr. H. DeKalb.)
Tsunamis travel at jet speeds on the deep, open, ocean and have such small amplitudes that ships rarely notice them. Only when they reach shallow water as they approach land, do they slow down and reach monstrous sizes.
It is about 2500 miles from Hawaii to Los Angeles. Given that Tsunamis travel at about 500 MPH, the ten million people living in and around L.A. would have between four and five HOURS to evacuate the entire city once the Hilina Slump collapses into the ocean. How the hell do you evacuate ten million people in 4 to 5 hours?
And that's just Los Angeles. What about the other large cities on the west coast: San Diego? San Francisco?
The fact that certain bosses at the USGS have told their subordinates not to reveal the magnitude of what's happening right now in Hawaii for fear of causing a panic is, in one aspect, noble. But the other aspect is HOW DO YOU EVACUATE TEN MILLION PEOPLE IN FOUR TO FIVE HOURS?
Quite simply, you don't. It cannot be done.
MAKE A PLAN RIGHT NOW
I want to be explicitly clear to all the folks on the west coast:

At this time, there is NO tsunami and that may remain the situation. There is NO NEED TO PANIC or to evacuate at this time.

Yet, given the fact that officials in Hawaii and at the US federal level already know the Hilina Slump is moving and they are not telling anyone, it seems to me (as a reasonable person) the concealing of this information is not a wise decision. Folks along the west coast should have a plan. If an evacuation order comes out, you'd better know

at that instant

where you're going and how you're getting there because believe me, when ten million other people find out they have to run for their lives or be killed by a tsunami in four or five hours, it will be utter, unimaginable, chaos. Again,

there is no need to panic, or to evacuate now.

But be acutely aware of what is taking place right now in Hawaii because if the part of the Kilauea volcano called the Hilina Slump collapses into the ocean, you will be lucky to escape with your lives once an evacuation order is given.

http://halturnerradioshow.com/index.php/news/u-s-national-news/2486-fears-of-tsunami-for-u-s-west-coast-as-erupting-hawaii-volcano-fractures-massive-unstable-landmass
Posted by

Olive Oyl
at 2:41:00 AM
10 comments