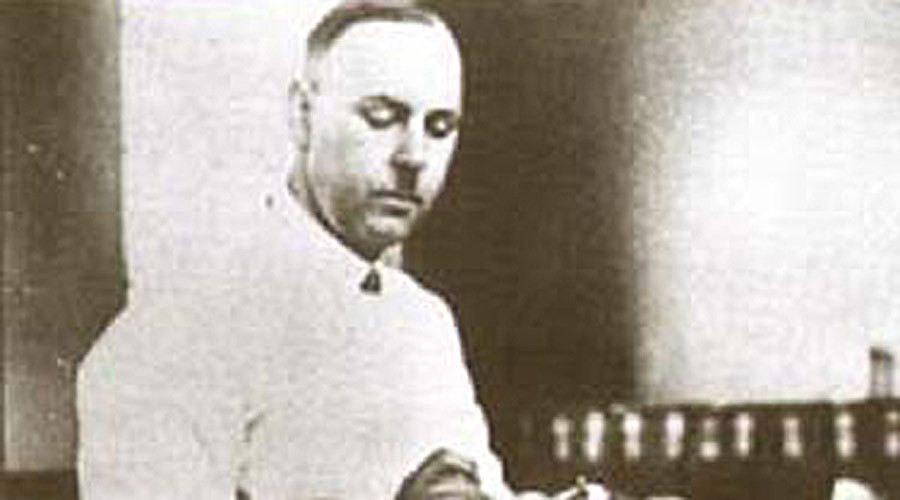 Several pieces of the horrible collection of human parts collected by Nazi anatomy professor August Hirt have been discovered in France. They were apparently forgotten when most were buried in the wake of World War II.
Hirt, an SS captain serving as head of the Institute of Forensic Medicine of Strasbourg during the occupation of the eastern French city by the Nazis,
harvested remains of 86 victims of gassed in August 1943 in Natzweiler-Struthof Concentration Camp.
The macabre collection of corpses was meant to serve proof of Nazi's racial theory as taught by the Ahnenerbe organization, demonstrating the anatomy of Jewish people. Jews were the majority of the anatomist's victims, although there were a handful of Poles and Asians of disputed origin.
After Strasbourg was liberated by the Allies in November 1944,

the bodies preserved in bins filled with distilled alcohol were found in Hirt's lab.

They were autopsied and eventually buried in a common grave at a local Jewish cemetery in 1946.
But on July 9, historian Raphael Toledano found that some of the remains were still at the institute, AFP reported on Saturday.
He discovered several body parts, including a jar containing several skin fragments and test tubes containing the intestine and stomach of a victim.
"The labels identify each piece with precision and
mention

the register 107969, which matches the number tattooed at the Auschwitz camp on the forearm of Menachem Taffel, one of the 86 victims,

" said the statement announcing the bodies' discovery.
Ironically, the body parts were preserved not by Hirt, but by a forensic professor from Strasbourg's medicine faculty, Camille Simonin, who was investigating the Nazi scientist's crimes. They were taken during the autopsies of the collection as the medic was establishing the cause of the victim's deaths for the military administration.
Toledano, who co-authored a documentary film on Hirt's crimes, was given a clue to the location of the remains by one of Simonin's letters written in 1952.
The newly-discovered remains are to be returned to the Jewish community of Strasbourg, where they will be interred along with the rest of the victims at the Cronenbourg cemetery.
In addition to the

86 people slaughtered to become Hirt's exhibits

,

the Nazi professor harmed other prisoners, whom he used as test subjects in his chemical weapons experiments.
Some 150 people became his victims in that way, with seven or eight recorded killed during the tests.
Hirt escaped the advancing Allied forces to southern Germany until June 1945, when he killed himself to avoid arrest and trial for war crimes.
http://www.rt.com/news/310271-nazi-professor-human-collection/
READ MORE: Google 'Nazi death camps' game incurs furious backlash from Holocaust survivor groups