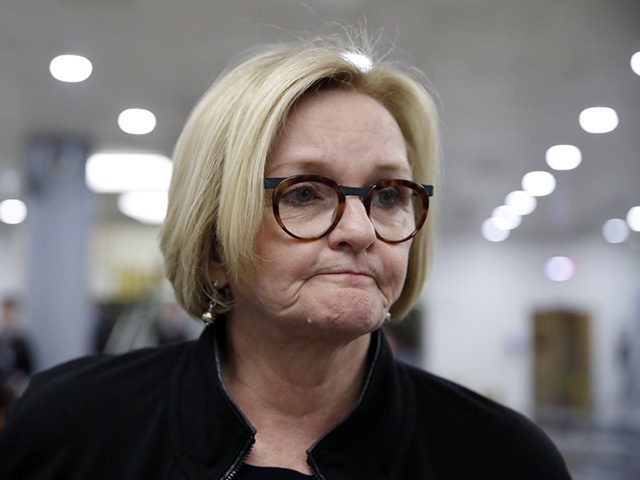 Businesses with ties to Sen. Claire McCaskill's (D-MO) husband have received $131 million in federal government subsidies since McCaskill's election to the Senate in 2007, according to a report released Tuesday.
The
Kansas City Star
reported
that McCaskill's husband, Joseph Shepard, had personal income from investments in federally-funded housing projects receiving money from the Department of Housing and Urban Development (HUD) and the U.S. Department of Agriculture (USDA) that grew exponentially after McCaskill took office in 2007.
In 2006, the year before McCaskill became a senator, McCaskill's husband reported making between $1,608 and $16,731 from these investments. In 2017, five years into McCaskill's second Senate term, Shepard reported earning between $365,374 and $1,118,158 in personal income from his investments.
There is no direct evidence that McCaskill is influencing her husband's investments. McCaskill does not sit on Senate committees that have oversight over USDA or HUD, but she has voted for spending bills that favor federal affordable housing programs.
Shepard has invested in affordable housing projects since the 1970s and has seen his investments in those projects skyrocket over the years. The projects Shepherd invested in got $62 million worth of federal money during McCaskill's first Senate term and $69 million in her second term.
As of 2017, Shepard serves as a limited partner—meaning he can only serve as an investor—in 164 housing projects.
McCaskill and Shepard have an estimated net worth ranging from $31 million to $37.5 million, and the Missouri Democrat's opponents have criticized her for her lavish spending habits.
McCaskill faced harsh criticism in June when she
admitted
to using a private plane instead of traveling in a recreational vehicle (RV) for an advertised three-day tour around Missouri in an RV.
McCaskill is considered to be one of the most vulnerable Democratic senators up for re-election in 2018, since her state went for President Trump in the 2016 presidential election.
The most recent Real Clear Politics (RCP) average of polls
places
McCaskill with a one-percent lead over her Republican opponent, Josh Hawley—which is within the margin of error.
https://www.breitbart.com/big-government/2018/07/24/report-businesses-mccaskills-husband-131-million-federal-subsidies/