OBAMA ADMINISTRATION SMACKED DOWN IN FIFTH CIRCUIT
EXECUTIVE AMNESTY INJUNCTION REMAINS IN EFFECT!!!
On Tuesday the
Fifth Circuit Court of Appeals delivered a stunning blow
to the Obama administration by denying their attempt to push forward with Obama's executive amnesty!

The administration was asking that the court lift the injunction completely or only apply it to certain states, but the court refused, arguing that immigration laws must be uniform, and that even if they did lift the ban partially – amnestied immigrants would then be free to move into states where the injunction still held (which would basically make the whole exercise useless).
The
Appeals Court was clear
in its ruling that the Obama administration better prepare itself for eventual and total defeat.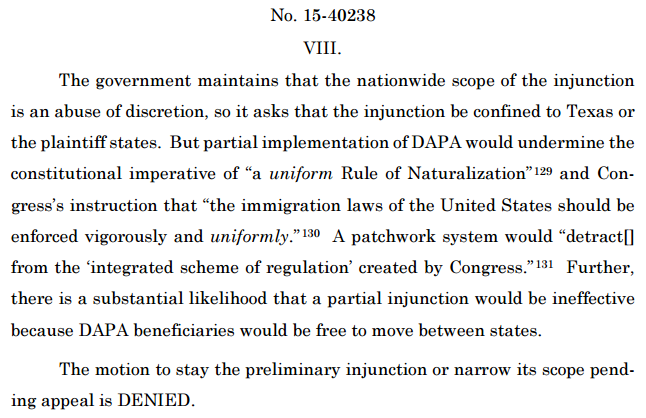 pdfserver.amlaw.com/nlj/Texas%205t
h%20Circuit%20deny%20stay%20NLJ.pdf
…
The decision of the court is 42 pages long and seemingly deals with every aspect of the case – not just with the administration's request that the injunction be limited.
The fact that the court sifted through the entire case in writing their decision means that the Obama team shouldn't hold out much hope for victory.
It's clear that the judges see the weaknesses in the President's issuing an executive order on immigration when that has historically been under the purview of Congress.
Don't expect the Obama team to lie down though – they're nothing if not persistent. Even when it comes to breaking our laws.
http://freedomforce.com/3883/court-of-appeals-smacks-down-obama-administration-and-upholds-injunction-against-executive-amnesty/