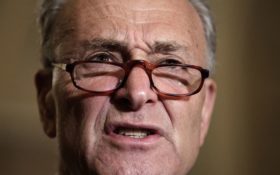 Chuck Schumer's screaming fit MELTDOWN (embarrassing!)
New York Sen. Chuck Schumer isn't taking Donald Trump's presidency very well. Schumer, a senior lawmaker and Democratic leader, reportedly had a complete meltdown at an upscale New York City restaurant Sunday and threw a screaming hissy fit over a woman's support of Trump. While there were no reports of tears, witnesses described an embarrassing scene.
Schumer allegedly became unruly when dining with friends at Sette Mezzo in the Upper East Side. There he ran into former U.S. Secretary of Health, Education and Welfare Joseph A. Califano Jr., who served in former President Jimmy Carter's administration, and began chatting with Califano's wife, Hilary.
Witnesses told The New York Post that Schumer became enraged when he learned that Hilary had voted for Trump — and launched into a screaming fit. Even worse, when the Califanos reportedly tried to remove themselves from the embarrassing scene, Schumer followed them outside and continued his tirade on the sidewalk!
So much for the "tolerant" left.
A witness claimed Schumer was screaming, "'How could you vote for Trump!? He's a liar!' He kept repeating, 'He's a liar!'"
Hilary confirmed the witness' description to The Post.
"Sen. Schumer was really rude… He's our senator, and I don't really like him," she said. "Yes, I voted for Trump, Schumer joined us outside and he told me Trump was a liar. I should have told him that Hillary Clinton was a liar, but I was so surprised I didn't say anything."
It's no surprise Schumer would get so worked up about Trump, of course. Schumer has been losing fight after fight against the majority of the new president's policies and nominations.
Schumer called for the removal of the chairman of the House Intelligence Committee, Rep. David Nunes, Monday, and joined other Democrats in saying he will filibuster Judge Neil Gorsuch's nomination to the Supreme Court, and was one of the main critics of House Speaker Paul Ryan's failed healthcare bill.
It seems Schumer's party isn't the only thing in a meltdown. The Trump presidency is also apparently affecting Schumer's mental health!
-The Horn News editorial team
https://thehornnews.com/chuck-schumers-screaming-fit-meltdown-embarrassing/